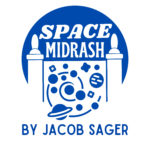 In this episode of Space Midrash, Jacob turns inward and explains what the show is about. Following a request from his daughter to explain in an episode what Space Midrash means, Jacob produced this episode. Not only does he unpack the meaning of the name, he explains what Jewish civilization means and why he doesn't say Judaism or Jewish culture. Similarly, he waxes poetic about how far into the space age we are and what that really means.
[00:47] Daughter's request to explain
[01:14] Narrative Collapse is coming
[02:00] Why "Jewish Civilization" and not other nomenclature
[02:34] Multifaceted Jewish identities
[03:53] Space Age as Paradigm Change
[05:10] Storytelling as response to narrative collapse
[06:03] Jewish tropes in history
[06:23] Title explanation
[07:30] Mission for Space Midrash
[07:50] Thank you
[08:30] Wishes to my children
[09:00] Join the Mailing List
[10:00] What I believe
Thank you for listening to Space Midrash. I believe in an ethical, artful, and inclusive humanity thriving amongst the cosmos, but we will only become those people if we can tell the story to inspire us to be those people.
Tune in your mailbox
Join the Space Midrash Newsletter
There's more to space than Jewish lasers and there's more to Space Midrash than the podcast. You can subscribe to our newsletter below to get regular updates on our little corner of the universe.