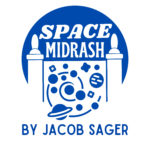 Over 60 years of space flight, many Jewish objects have crossed the Karmen line. Items have been religious, historical, cultural, and personally meaningful to the astronauts that brought them. This episode chronicles those items.
Religious Items: Mezuzah by Jeffrey Hoffman, Torah by Jeffrey Hoffman, and Torah and Microfiche Tanach by Ilan Ramon.
Items in memory of others: Drawing of a moonscape by a young person who perished in the holocaust brought by Ilan Ramon, a Teddy Bear belonging to a young person who perished in the Holocaust brought by Mark Polansky, a "live long and prosper" pendant belonging to Leonard Nimoy's daughter brought by Laura Shephard Churchly.

Items celebrating holidays: Dreidles brought by Jeffrey Hoffman and David Wolf. Fun Hannukah Socks brought by Jessica Meir, and Matzah and Kiddush Cup brought by Eytan Stebbe.