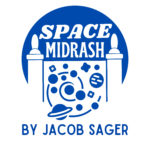 2021 saw rocket launches almost every other day. Among those launches, there were three poignant moments that involve Jewish people and Jewish objects.
September 16, 2021 – Inspiration4 SpaceX mission chartered and led by Jared Issacman, a Jewish businessman and philanthropist.
October 13, 2021 – William Shatner, 90 year old Jewish Actor famous for his role as Captain Kirk, rides upon a Blue Origin rocket and waxes poetic upon return.
December 11, 2021 – Laura Shepard Churchley, daughter of pilot Alan Shepard – the first American in space, carries a "Live Long and Prosper" pendant on behalf of Julie Nimoy, daughter of actor Leonard Nimoy – the first vulcan.
Episode Breakdown:
[1:26] Jacob explains Jewish Space Age Leadership
[3:04] Julie Nimoy sends Spock Pendant with Blue Origin
[3:57] Laura Shepard Churchly happily accepts request
[5:14] Symbolic meaning of pendant
[6:25] Blue Origin marketing plan
[6:50] Shatner as space storyteller
[7:05] Shatner's words upon returning
[8:30] Inspiration4 Mission
[9:21] Inspiration4 Crew

Related Articles:
Profile on Jared Issacman https://www.cnbc.com/2021/10/12/spacex-inspiration4-commander-jared-isaacman-qa.html
Profiles of 9 Jewish Astronauts including Isaacman: https://www.kveller.com/9-jewish-astronauts-who-have-boldly-gone-to-space
Wikipedia List of Jewish Astronauts (including Issacman and Shatner): https://en.m.wikipedia.org/wiki/List_of_Jewish_astronauts
Brief on Julie Nimoy sending her pendant https://www.space.com/blue-origin-star-trek-leonard-nimoy-llap-necklace

Review of Shatner's trip and reaction https://www.usatoday.com/story/entertainment/celebrities/2021/10/13/william-shatner-blue-origin-launch-star-trek-actor-oldest-space/8434551002/