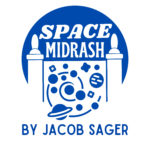 In the beginning there were two space programs: The United States and the Soviet Union. Now many nations, private companies, and academic cohorts have their own space programs. Together they make the human space program. As the human experience in space grows it's time to consider a Jewish Space Program. In this episode we unpack the human space program and explore why and how there should be a Jewish Space Program.
Tune in your mailbox
Join the Space Midrash Newsletter
There's more to space than Jewish lasers and there's more to Space Midrash than the podcast. You can subscribe to our newsletter below to get regular updates on our little corner of the universe.