Probing the intersection of Jewish Civilization and the Space Age

Space Midrash is a bi-weekly podcast on a mission to connect Jewish people with the Space Age. Episodes cover topics such as Jewish astronauts, cultural futurism, space tourism, planetary science, and modern philosophy.
History is full of …
narrative collapse, of huge historical and social change.
Yet in every episode, Jewish people have looked into the present
and drew on the past to tell a powerful story
thrusting Jewish Civilization into a new,
previously unimaginable future…
Episodes drop every other week.
Podcast available everywhere on earth.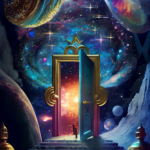 Follow Space Midrash
across the social media universe
Join our community by subscribing to our list
Tune in your mailbox
Join the Space Midrash Newsletter
There's more to space than Jewish lasers and there's more to Space Midrash than the podcast. You can subscribe to our newsletter below to get regular updates on our little corner of the universe.
Space Midrash is for everyone:
educators, scientists, enthusiasts,
philosophers, and students.
Share Space Midrash with your tribes